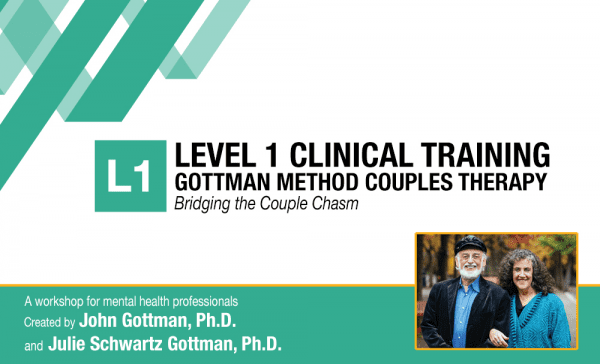 Next Training: January 25-26, 2020, 9:00am to 5:00pm
Where? Comfort Suites Baymeadows, 8277 Western Way Circle, Jacksonville, FL 32256
Provided by: Michael Brown, MSC, LMFT
Level 1 Clinical Training: Gottman Method Couples Therapy
Help couples in your practice manage conflict and deepen intimacy. This is the first step in learning Gottman Method Therapy! A truly inspiring workshop, Level 1 training will give you new insight into couples' struggles using proven assessment techniques and interventions strategies.
Our practical, emotion-focused, and highly effective approach is based on Drs. John and Julie Gottman's four decades of research with more than 3,000 couples. It is the most extensive study ever done on marital stability and divorce prediction.
Training Description
In this workshop, you will be provided with a research-based roadmap for helping couples compassionately manage their conflicts, deepen their friendship and intimacy, and share their life purpose and dreams based on the Sound Relationship House Theory.
You will be introduced to Dr. Gottman's breakthrough research on thousands of couples to understand the difference between the "Masters" and "Disasters" of relationships. If you are not already doing an assessment, this training will teach you how to assess a relationship's strengths and areas of concern using empirically validated questionnaires.
You will view original videos of real couples from the famous Gottman "Love Lab," as well as videos of Dr. Julie Gottman demonstrating assessment and interventions in a case example from her private practice.
What will I learn in Level 1?
You will learn research-based strategies and tools to help couples successfully manage conflict. You will gain the skills to empower partners to dialogue about their worst gridlocked issues by uncovering their underlying dreams, history, and values. You will gain tools to help couples process fights and heal their hurts, and techniques for partners to deepen their intimacy and minimize relapse.
Who is this training for?
This training is for mental health providers, allied professionals and clergy, students and interns, family clinic staff, professors/teachers of couples therapy, researchers in the social sciences, and employee assistance professionals. There are no prerequisites.
What is included in this price?
Included in the registration price is a clinical training manual, which contains the core Gottman Method Couples Therapy assessments and interventions. You will be awarded a Certificate of Completion from the Gottman Institute.
300-page Level 1 Clinical Training Manual
Gottman Method Couples Therapy Level 1 Training Certificate of Completion
Continuing Education: (12 CE hours are available for $39.99 through National Marriage Seminars of America)
This training provides continuing education hours (CEs) for Licensed Marriage and Family Therapists (LMFT), Psychotherapists, Psychologists, Social Workers, and other mental health professionals. CE credits are optional and not included in the price of registration.
Training Objectives
At the completion of this training, you will be able to:
Summarize the research that allows us to predict future relationship stability.
Describe the seven levels of the Sound Relationship House Theory.
Conduct a couple's therapy assessment using elements of the couple's narrative, the Oral History Interview, written questionnaires, observations of conflict, and individual interviews.
Describe two interventions to help strengthen a couple's conflict management.
Describe two interventions to enhance a couple's friendship system.
Describe two interventions to explore a couple's system of shared meaning.
Explain why physiological self-soothing is essential for a healthy relationship.
Create a therapeutic contract with a couple, discuss and decide on goals and include a summary of the couple's strengths and areas that need improvement.
Describe the Philosophy of Therapy, including assumptions, an overview of techniques, and goals of therapy.
Describe the Rapoport Intervention and when to use it.
Describe the process of therapy, including the structure of a session.
Please Note: Licensing Boards change regulations often, and while we attempt to stay abreast of their most recent changes, if you have questions or concerns about this course meeting your specific board's approval, we recommend you contact your board directly to obtain a ruling.
Registration Tuition:
Standard: $425.00
Register at 12/31/19 and receive an Early Bird Discount of $50

Student/Intern Discount $50

(must register with .edu address)
AAMFT Member Discount $50 (must include member id #)
Discounts can be combined for a maximum total of $100
Cancellation/Refund Policy:
If you cancel prior to three weeks before the workshop date, a full refund minus a $50 processing fee will be provided. Following the cut-off date, your fee can be applied to a future workshop.
Satisfactory Completion:
Participants must attend the entire seminar and complete an evaluation to receive a certificate. Failure to sign in or out will result in forfeiture of credit for the entire course. No exceptions will be made. Partial credit is not available.
Disability Access:
Please let us know how we can serve you. If you require ADA accommodations please contact our office 30 days or more before the event.