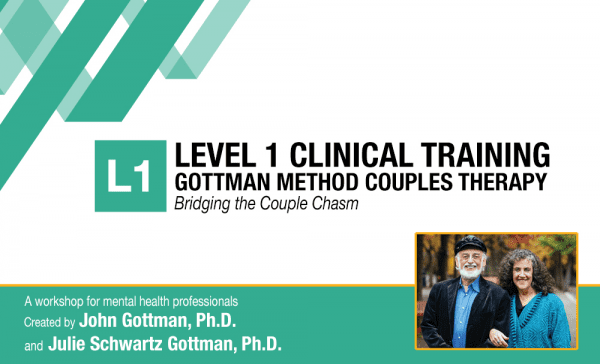 I am pleased to announce that I can offer the Level 1 Clinical Training in Gottman Method Couples Therapy: Bridging the Couple Chasm. This is the first step in learning Gottman Method Therapy! A truly inspiring workshop, Level 1 training will give you new insight into couples' struggles using research-based assessments and effective interventions.
As a result of taking this Training you will learn:
How couples really sustain their marriages-in contrast to common myths and conceptions
How the quality of relationships affects the immune system, physical health, and well-being
How marital problems change over time but never go away–even in happy couples
Proven strategies and tools to help couples successfully manage conflict
Skills that empower partners to dialogue about their worst gridlocked issues
Methods to help couples process their fights and heal their hurts
Techniques for couples to deepen their intimacy and minimize relapse
You will receive a 300-page Manual featuring new relationship assessment questionnaires and clinical interventions that you can use immediately with your clients.
Here's what trainees have said:
"Best seminar I ever attended"
"…Extremely helpful – and I have done Marital Therapy for 25 years"
"…this seminar was one of the most informative and relevant to clinical work that I've taken"
"I believe this is some of the most important and valid information on couples."
"This info will definitely enhance my practice with couples."
Who is this training for?
Participants working in the following fields will benefit from this training:
Mental health providers
Allied professionals and clergy
Students and interns
Professors/teachers of couples therapy
Researchers in the social sciences
Employee assistance professionals
Level 1 Workshop Outline
Two days: 9:00am – 5:00pm
DAY ONE
THE RESEARCH: What Makes Relationships Succeed or Fail?
What is different about Gottman Method Couples Therapy?
What is dysfunctional about relationships when they are ailing?
The "Masters" and the "Disasters" of relationships. Exploding some common myths
Negative and Positive sentiment overrides
Friendship, Intimacy, Positive Affect Systems
The Shared Meaning System
From a checklist to the Sound Relationship House Theory
HOW TO ASSESS A RELATIONSHIP
Using The Sound Relationship House Theory to assess a relationship's strengths and areas that need improvement
THE ASSESSMENT SESSIONS
Session 1:
Couple's Narrative
Oral history interview
Conflict evaluation
Discuss the Shared Meaning System
Preparing the couple for Individual Sessions
Written Questionnaires
Session 2: Individual interviews
Session 3: Therapeutic Contract – Discussing and Deciding about Goals
Summary of strengths and areas that need improvement
Treatment planning
Demonstration film
DAY TWO
INTRODUCTION TO INTERVENTION
Philosophy of the therapy – Six assumptions
CONFLICT MANAGEMENT
Rapoport Intervention and demonstration film
Ending the Four Horsemen, Dealing with Flooding and demonstration film
Dreams within Conflict Intervention and demonstration film
Building the Basic Skills
Softened Startup
Accepting Influence
Repair and De-escalation
Physiological Soothing
Compromise
Aftermath of a Fight or Regrettable Incident and demonstration film
BUILDING FRIENDSHIP AND SHARED MEANING
Build Love Maps and demonstration film
Turn Towards: The Stress-Reducing Conversation and demonstration film
Build Rituals of Connection and demonstration film
Create Shared Meaning and demonstration film
PROCESS OF THE THERAPY
SUMMARY
WHAT'S NEXT – ADDITIONAL TRAINING
Continuing Education:
Continuing Education: (12 CE hours are available for $29.99 through National Marriage Seminars of America)
This training provides continuing education hours (CEs) for Licensed Marriage and Family Therapists (LMFT), Psychotherapists, Psychologists, Social Workers, and other mental health professionals. CE credits are optional and not included in the price of registration.
Counselors:
Credit requirements and approvals vary per state board regulations. Please save the course outline, the certificate of completion you receive from the activity and contact your state board or organization to determine specific filing requirements.
Social Workers: 
PESI, Inc., Provider #1062, is approved as a provider for continuing education by the Association of Social Work Boards (ASWB), www.aswb.org through the Approved Continuing Education (ACE) Program. PESI, Inc. maintains responsibility for the program. ASWB Approval Period: January 27, 2014-January 27, 2017. Social workers should contact their regulatory board to determine course approval. Social workers will receive 12 clinical continuing education clock hours in participating in this intermediate course. A certificate of attendance will be awarded at the end of the program to social workers who complete the program evaluation.
Psychologists:
PESI, Inc. is approved by the American Psychological Association to sponsor continuing education for psychologists. PESI, Inc. maintains responsibility for this program and its content. PESI, Inc. is offering this activity for 12 hours of continuing education credit. Full attendance is required; no partial credits will be offered for partial attendance.
Other Professions:
This seminar qualifies for 12 continuing education clock hours as required by many national, state and local licensing boards and professional organizations. Save your course outline and certificate of completion, and contact your own board or organization for specific requirements.
Marriage and Family Therapists:
This activity consists of 720 minutes of continuing education instruction. Credit requirements and approvals vary per state board regulations. You should save this course outline, the certificate of completion you receive from the activity and contact your state board or organization to determine specific filing requirements.
Please Note: Licensing Boards change regulations often, and while we attempt to stay abreast of their most recent changes, if you have questions or concerns about this course meeting your specific board's approval, we recommend you contact your board directly to obtain a ruling.
Satisfactory Completion:
Participants must attend the entire seminar and complete an evaluation to receive a certificate. Failure to sign in or out will result in forfeiture of credit for the entire course. No exceptions will be made. Partial credit is not available.
Disability Access:

Please let us know how we can serve you. If you require ADA accommodations please contact our office 30 days or more before the event.
If you would be interested in sponsoring or participating in a Level I Clinical Training in Gottman Method Couples Therapy in your organization, please contact me via my contact page.